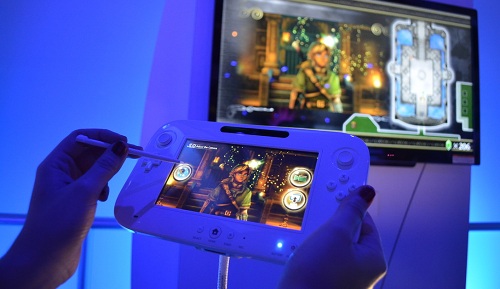 Neogaf is yet again the source of a really big Wii U rumor spreading this week; a rumor way too unrealistic to be true yet we want your imagination to run wild with this piece of information. The speculation this time is concerning the Wii U's upcoming eShop and what it will contain at launch and during its future.
There is quite a few interesting titles listed and if you'd like to check out how untrue this list seems then hit the jump and take a look for yourself.
Level 5
  Professor Layton Chronicles (Level 5)
Activision
Tony Hawk Pro Skater HD-Complete (Activision) (Launch)
Goldeneye 007: Reloaded (Acitivsion) (Launch)
World of Warcraft (Activsion) (Launch)
Capcom
Resident Evil: The Mercenaries Bio Ops (Capcom)
Okamiden HD (Capcom) (Launch)
Electronic Arts (EA)
Boom Blox Wii U (EA)
NFL Blitz Touchdown (EA)
Burnout: Rush Hour (EA) (Launch)
Shank 2 (EA) (Launch)
Crysis (EA) (Launch)
Gaijan Games
Bit Trip Runner 2 (Gaijan Games) (Launch)
Namco Bandai 
Tank! Tank! Tank! (Namco Bandai)
Meteos (Namco Bandai)
Pac-Man Battle Royal (Namco Bandai) (Launch)
Nexon
Nintendo
Big Brain University (Nintendo) (Launch)
Super Mario Strikers Unlimited (Nintendo) (Launch)
Fluidity: Toxic (Nintendo) (Launch)
Sabarasa
Protocol (Sabarasa) (Launch)
SEGA
Rodea the Sky Soldier (SEGA)
Renegade Ops 2 (SEGA)
Phantasy Star Online 2 (SEGA) (Launch)
Sonic the Hedgehog 4: Episode 2 (SEGA) (Launch)

Spicy Horse
Big Head Bash (Spicy Horse) (Launch)
Square Enix
Demon's Score (Square Enix/Epic)
Final Fantasy: Crystal Chronicles Wii U (Square Enix)
 Telltale Games
The Walking Dead (Telltale Games) (Launch)
Ubisoft
UbiArt Presents: Sketchtarium
Red Steel 2: Locked a Reloaded (Ubisoft)
I Am Alive (Ubisoft) (Launch)
Valve
Counter-Strike: Global Offensive (Valve) (Launch)
DotA 2 (Valve)
You only need one reason to prove this is fake; World of Warcraft. How would you be able to fit all that extra data on your storage? There is just too much space required for World of Warcraft no matter how much space the Wii U will take and SD cards you could use. It's just unrealistic. If you can think of any other faults in the list, let us know in the comments too!
So would you like this to be true? Do you think there is any chance for this to become reality? What would you like to see on the Wii U's upcoming eShop? Hit us with some comments now!
Source: Neogaf