Welcome to the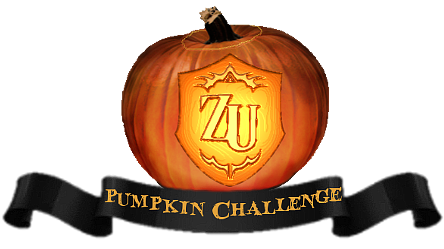 It's that time of year again. Time to completely mutilate pumpkins with geometric shapes and stick a candle in them.

So I thought, why not take pictures and post them on Zelda Universe?


So this is pretty simple:
Buy a pumpkin. Carve the pumpkin. Take pictures and post it here in this thread!


Carving challenged? No problem.

Pumpkin modifiers:
Paint that pumpkin
Carve a virtual pumpkin and take a screen shot.
Draw a jack-o-lantern in MSPaint
Or practice your graphics and create a cool carved pumpkin in photoshop or the image editor of your choice.


(Basically, as long as you're doing something cool involving pumpkins post a picture up in here.
It could even have wings and shoot a laser beam out of its ass. As long as it's something to do with a pumpkin that you got creative with put that bad boy up in this thread.)
Rules:

Everybody that participates will get this nifty pumpkin badge to put in their signature area.
(If wanted!)


Get carving!

#faroreguerrilla