Hello everyone. It goes without saying that there has been quite some contention since the release of Twilight Princess as to the physical identity of the Hero's Shade. While we do all know and agree that he is the former Link known as the Hero of Time from Ocarina of Time, there seems to be some disagreement as to what he is as the Hero's Shade.
I am here to dispel the prolific misconception that the Hero's Shade is a Stalfos. I hope by the end of this journey of facts, the truth will come to light that the Hero of Time being a Stalfos is no more than false conjecture not unlike the Tetraforce theories. Good for making your own stories, not so for trying to stick to facts of Zelda lore.
I've separated this article into 3 different parts: The Facts We Know, The Fact I'm Presenting, and Rebuttals Against Common Arguments
The Facts As We Know Them
I am not going to showcase why the Hero's Shade isn't a Stalfos straight away. Instead, I would like to lay down a base composed of facts that we, as theorists, know is 100% fact and can be sourced from either the Games, Hyrule Historia, or Developer Quotes.
Fact 00:
The Hero's Shade is The Hero of Time From OoT and MM
Obvious, yes, but nonetheless as a base to this theory it must be stated. Confirmed by Hyrule Historia.
Hyrule Historia p118:
Link, the Hero of Time's Descendant
The ghost of his ancestor, the Hero of Time, teaches Link his secrets.
Fact 01:
The Hero of Time Has A Direct Bloodline/Descendent
A Direct Bloodline is one where the descendants/ancestors of a particular individual are directly related through blood - an individual's child, child of that child, parent, grandparent, etc.
This fact is hinted at within the game Twilight Princess. The Hero's Shade tells TP Link about hidden skills only found within their bloodline, which at least cements a blood relation.
The concrete source of the Hero's Shade's specific relation to TP Link comes from Hyrule Historia, where it states that the Hero's Shade and TP Link are directly related.
Hyrule Historia p115:
This young man from Ordon Village was Link, a descendant of the Hero of Time himself.
Hyrule Historia p118:
Link, the Hero of Time's Descendant
The first time Link sets foot in the Twilight, the crest of the Triforce of Courage on the back of his hand shines forth and he takes on a beastly form. When he returns to human form, he is garbed in the clothes said to have been worn by the hero. The ghost of his ancestor, the Hero of Time, teaches Link his secrets. Ever since his return to the Child Era, the Hero of Time had felt regret that he would not be remembered as a hero. Therefore, he addresses Link as his son and passes down the proof of courage, in addition to his secrets.
Note that it specifies that TP Link is a -descendant- of MM Link -himself-. The phrasing leaves no doubt that this is a direct, not indirect, ancestry.
What does this mean for the Hero of Time? It means that he has had sex with a woman that resulted in a baby who grew up and had other babies and so on and so forth until TP Link was born. That is a fact.
Fact 02:
The Hero of Time Survived His Childhood
This fact has no direct proof, but nonetheless is 100% true. This fact stems as a result of Fact 01: The Hero of Time having a direct descendent. Since a direct descendent requires for the individual in question to be mature enough to have viable sex, we can safely presume that the Hero of Time reached puberty.
In addition, due to the child-friendly nature of Nintendo and general societal aversion to child sexual activity, we can also safely assume that the Hero of Time reached the age of consent before having a child, and most definitely before his death.
(funnily enough this fact alone completely debunks a related theory that MM Link died during MM)
Fact 03:
All Stalfos Are Evil Physical Skeletons (sometimes with armor)
Since we are figuring out the identity of the Hero's Shade, it would do to figure out the identity of what he is often incorrectly assumed to be - the Stalfos.
Stalfos have been present in the Zelda games and lore since the very first game, and while their appearances have varied over the course of the years, there are nonetheless very strict guidelines to their appearance and behavior. Here I present to you the Stalfos over the years:
As can be seen, while their appearances vary, they nonetheless have several key elements in common. All Stalfos are made completely of solid bones. All Stalfos are a hominid skeleton. All Stalfos lack skin, muscles, and cartilage. All Stalfos have glowing eyes. They are not spirits, but undead - the animated bones of the dead that exist in the physical world like any other "living" creature.
In addition, their natures appear to be very hard set, unlike other monsters like the Moblins. Stalfos have been strictly evil, created either through Ganondorf's evil magic, the magic of the Lost Woods, or otherwise. Some may have shown intelligence, but all are strictly against the living and against the Hero, attacking without much reason.
Fact 04:
The Hero's Shade's Golden Wolf Form Manifests in The Physical Realm of Hyrule (and Others)
I am honestly surprised that the fixation on the Hero's Shade's mental form is so strong that no one bothers to comment on his other one - the Golden Wolf. This is the form we first see him in, as well as the form that appears in the physical realm of Hyrule. He also appears as the Golden Wolf in Meta-Physical Howling Stone Space, and also initially appears as the Golden Wolf in the Spirit Place whereupon he finally transforms into his hominid form to teach you the Hidden Skills. The wolf appears in all places, while the hominid strictly appears in the Spirit Place, and needs to transform from wolf form first.
So, the Hero's Shade's wolf form manifests in 3 planes of existence: Physical Hyrule, Howling Stone Hyrule, and the Mind Space. His humanoid form manifests in 1 plane of existence: Mind Space.
Fact 05:
The Triforce Pieces Abandon Its Host Shortly Before Death
This fact is presented to us through various events in the games. In Twilight Princess, the Triforce of Power abandons Ganondorf as he is about to permanently die, represented by the glow on his bearer mark dying out. This is quite interesting, as the ToP prevents Ganondorf from dying from mortal wounds like in his supposed execution by the Sages - thus it must not be present in order for him to actually die.
Do note that the reincarnation of Ganondorf in FSA lacks a Triforce Piece, suggesting that TP Ganondorf's murder shattered the link between the King of Evil and the ToP (in fact, the Triforce is completely absent from FSA, despite being the next game in the Child Timeline after Twilight Princess), unlike how MM Link's passing on also passed on the ToC to someone else. This is further evidenced by the Triforce Pieces being released from Ganon after his slaying in the original LoZ and other games, whereupon they were immediately gathered by Link.
ALttP used to be further evidence, until it was revealed/retconned in ALBW that Ganon was merely sealed away, and thus kept his piece of the Triforce, since he was not actually dead. And then again in the finale,
Ultimately, this means that dead and undead creatures cannot bear Pieces of the Triforce.
So, now that we have the facts laid out, it is time to present the fact based on them all: The Hero's Shade Is Not A Stalfos.
Reason 01:
They Do Not Look/Act The Same!
The first and most obvious reason why the Hero's Shade is not a Stalfos. This can be found in/supported by Fact 03. Compare an image of the Hero's Shade with that of a Stalfos - he's clearly a wolf!
*beat* And for the form I'm actually comparing, do take note how the Hero's Shade completely lacks any bones. He has armor, yes, but not any donned by any Stalfos known. This armor is worn by something that is obviously see-through and very ghost-like. No Stalfos to date has ever been see-through or ghostly.
[espoiler=Warning, Big Image]
[/espoiler]
Another thing that has to be taken into account is their placement in reality. In Fact 03 we know that Stalfos are undead, physical creatures made of reanimated bones and they exist in the physical world. The Hero's Shade's hominid form, however, only exists in a metaphysical state - in someone's mind. This goes completely against the nature of a Stalfos, and like I was teasing earlier, due to this discrepancy we would have to compare the
physical
form of the Hero's Shade with a Stalfos and as it turns out his physical form is most unlike a Stalfos because his physical form is a wolf as per Fact 04.
Since the physical forms do not match up, and the metaphysical form has no bearing on physical reality, the Hero's Shade cannot be a Stalfos.
As for their actions, the Hero's Shade acts completely unlike any Stalfos. He has intelligence, memories of when he was alive, and most importantly is not out to kill Link or any civilians, whereas any Stalfos worth his salt would do so.
Reason 02:
Link Never Got Lost in The Lost Woods
As far as can be discerned, the Hero of Time was never lost in the Lost Woods. Thanks to Fact 01 and Fact 02 we know that he survived his childhood, which meant not getting lost during his search and leaving of Navi in the woods. Furthermore the woods seen in MM are not specified to be the Lost Woods, and in fact is called a "Mysterious Forest". While possible the Mysterious Forest could have the same properties as the Lost Woods and turn adults who get lost into Stalfos, it is nonetheless clear that Link still lives and goes on to be an adult, quite likely far away from that Forest and the Lost Woods.
He has no reason to return to either of these places, as far as the knowledge we have obtained lets us know.
Reason 03:
The Hero's Shade Is A Ghost Filled With Regret at Being Forgotten
The precedent for this is set in Fact 01, with a quote from Hyrule Historia.
Hyrule Historia p118:
The ghost of his ancestor, the Hero of Time, teaches Link his secrets. Ever since his return to the Child Era, the Hero of Time had felt regret that he would not be remembered as a hero.
The term ghost coincides with the Hero's Shade's humanoid form, which as stated earlier is very ghost-like. "Ghost" also contradicts Fact 03 - that Stalfos are physical bones, not ghosts. In addition, this quote also reveals why the Hero's Shade exists in the first place: the Hero's Shade exists because for the rest of his life in the Child Timeline, he regretted not being remembered as a Hero.
As such, the Hero's Shade came into existence until he could ease that regret. He was only able to accomplish this goal by aiding his direct descendent TP Link, and teaching him things that would enable him to save the day and be the hero that the Hero's Shade no longer was in people's memories. Again noting Fact 03, this is very unlike a Stalfos.
Rebuttals Against Common Arguments
Now that I've laid out the groundwork and presented this statement, there is bound to be some arguments against it. I have taken the liberty of gathering the more common arguments and rebutting them to a complete standstill here.
Rebuttal 01:
The Hero's Shade is A Special Stalfos
Under
what possible
circumstances can that claim be made? Because he
looks different
? It is far more likely that the reason he doesn't look like a normal Stalfos is because he's Not A Stalfos.
Additionally, we do have instances of "special" Stalfos already. And guess what.
[espoiler=Majora's Mask examples may be exempt from this due to the surreal and alternate-universe nature of Termina and various curses and may not in fact be representative of actual Special Stalfos]
Master Stalfos
Stalkids
Captain Keeta
Igos du Ikana (who became Not Automatically Evil after freeing his soul)
Stalhounds
Stallord
[/espoiler]
They still look like Stalfos, if a bit fancier with their clothing or skeletal type. But they still look like a bunch of bones playing dress-up, and are still Evil/Cursed by nature, and thus remain in the archetype set by Fact 03. Hero's Shade does not and is not. He is not made of strictly bones and is not automatically evil. Even his face appears more of extreme gauntness brought on by decay rather than an outright skull.
In addition, this very premise brings up a secondary theory, based upon Fact 04: The Hero's Shade is a "Special" Wolfos. The reason to back up this claim is exactly the one used to claim that he is a special Stalfos - that he "looks like" a Wolfos, but looks/acts different because he is "special" and turned into a Wolfos because he is "special". And yet no one has ever felt inclined to support this position.
[espoiler=See, they totally look the same!]
Hero's Shade Wolf Form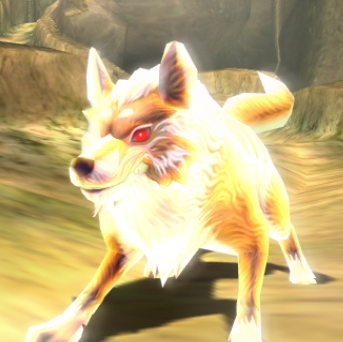 OoT Wolfos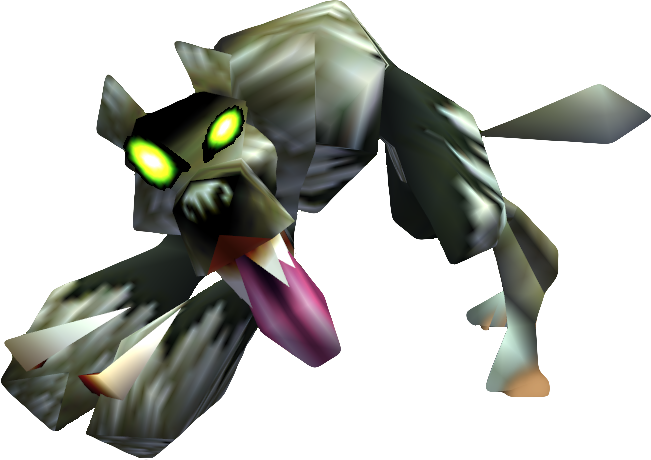 TP Wolfos
[/espoiler]
This is because the Golden Wolf, does not, in fact, look like a Wolfos, just like how the Hero's Shade does not look like a Stalfos (see Fact 03). The Golden Wolf may be
similar
in appearance to a Wolfos like how the Hero's Shade is
similar
to a Stalfos, but this does not automatically mean the Golden Wolf is a Wolfos nor does it automatically mean the Hero's Shade is a Stalfos.
One cannot deny this Wolfos Theory and yet accept the Stalfos Theory at the same time. One cannot say the Golden Wolf
isn't
a Special Wolfos because he doesn't look like a Wolfos and then go around and say the Hero's Shade
is
a Special Stalfos because he doesn't look like a Stalfos. It is a contradiction. And thus we are left with two options:
Either the Hero's Shade is both a special Stalfos
and
special Wolfos, or he is neither of these. The most sensible answer, of course, is that he is neither. There is no precedent for someone dead to turn into two monsters and switch between them depending on metaphysical aspects.
Lastly, as per fact 05, the Triforce has nothing to do with his death beyond disappearing and taking all of its magic with it, so the Triforce cannot have magically transformed him into one after his death, because it left him before he even died.
Rebuttal 02:
He Went Back to The Lost Woods [While Trying to Find Navi] And Got Lost
Again, what evidence is there at all to back this up? This is pure speculation, and one that has an extremely weak jumping-off point. Yes, it is possible that he may have gone back, however, there are HUGE problems with this as glaring assumptions being made:
There is no guarantee that he would get lost and suddenly not know how to get around his back yard anymore.
There is no guarantee that he lost the protection of the Great Deku Tree and the Kokiri.
There is no guarantee that the Triforce of Courage wouldn't have protected him from being too lost.
There is ABSOLUTELY NO REASON that he would continue to search for Navi.
That last part irks me particularly, because the entire point of Majora's Mask was to let Navi go. That game WAS when he went to search for Navi - his search for Navi at the beginning of the game was the very catalyst that sent him on this nearly never-ending hell ride, and by the end of Majora's Mask he learned some pretty damn important lessons about loss, grief, determination, friendship, and letting things go/saying goodbye.
Skull Kid is a clear parallel to Link - someone who lost a dear friend and attempted to get them back, which ended up making Bad Things Happen. The difference here is that while Skull Kid went completely loony and mind-controlled, Link realized that it was foolhardy to chase after the past, and that he and Navi still cared for each other even if they were to be separated forever, based on the reconciliation between Skull Kid and the Giants, and the parting words the Happy Mask Salesman gave to Link.
There is NO reason why, years later, he would suddenly and stupidly cast aside all that he learned to go and search for her again.
Rebuttal 03:
The Triforce Did It
See Fact 05, as well as the end of Rebuttal 01. As the Triforce of Power did for Ganondorf, so does the ToC do for MM Link. Shortly before MM Link's death, the ToC leaves him in search for a new bearer. Thus, when MM Link finally does die, he does not have any mystical or magical powers, let alone any that would oddly transform him into an evil creature. It his regrets alone that caused his spirit to become trapped in the physical world until he is set at ease.

The Hero's Shade isn't a Stalfos because he doesn't look like one, act like one, smell like one, have the same origin as one, and doesn't exist in the same existential space as one.

THANK-YOU AND GOOD NIGHT *collapses*

"FUCK YOU NINTENDO" by Topaz Mutiny
Thanks to Sugarpoultry for the pretty sig!
The post was edited 3 times, last by Topaz Mutiny ().