Right, so the previous Digimon RP of this is pretty much good and dead.
But I love the story so much I'm going to make a new one.
Digimon, Digital Monsters. Once upon a time the Digital World and the Human World used to be intertwined with each other. They influenced each other and they grew together. However, since the almost destruction of both worlds with the event of Quartzmon, a secret governmental agency by the name of DATS made it their prerogative to erase all memory of Digimon from the world.

Now in the year 20XX, it worked and the only memory of Digimon last in video games and cards. Any talk of Digimon are considered conspiracy theories and are pretty much looked down upon. The Human World is no longer influenced by the Digital World thanks to a fire wall which separates the two.

However, the Digital World is still influenced by the increasing data output of the Human World. This has lead to the disgruntlement of some Digimon who eventually join together and make the Digimon Liberation Front or the DLF for short. The Digimon Liberation Front's goal is to eradicate the human world and for the Digital World to live free of human influence once and for all.

Through their efforts the firewall begins to break down and Digimon start appearing in the real world. At first its nothing that DATS can't take care of, but more and more Digimon start coming.

Heroes are needed.

These heroes are you.

However, do you think you have what it takes to save the world?
Quick Laydown
Digimon Liberators are the seventh generation of Digidestined. The last generation, which was General/Hunter, is dead. All previous generations are dead. There will be no cameo appearances from any of the human Digidestined in this RP.
You will be able to choose you character(s) to represent one of the generations. (Which will be explained further, but basically I am not making up a new Digivice for this RP. Fuck that shit.) Your character cannot switch generations (for obvious reasons). This is an urban fantasy. So, you we will be playing as closely to both the Digital World and modern Japan culture as we possibly can. There will be an FAQ for those who are not familiar with the Japanese culture and Digimon. Also, if you have any questions,
ask.
Don't assume and then get all mad and pissy when I am like
uhm, yeah, no.
In addition, this will incorporate in some shape or form
all
the Digimon seasons from references to like actual fucking straight out story plot points. While you don't need to be familiar with all the seasons (that's what I'm here for) a basic understanding of Digimon is
highly
preferable. (And in fact, will make your life so much easier.)
Rules:
[espoiler='Because we gotta lay this shit down before anything']
1) When you sign up for this RP you are making a commitment. I'm not asking you to post everyday, but once a week would be nice. If you are having real life issues, tell us so we won't be like
what the fuck man.
While I won't kick you out of the RP for the first being a slacker who never posts right away, if you are holding up the RP for a month with no good excuse, I will give you a warning.
After five warnings, I will kill off your Digimon in a gruesome or humiliating manor, and you will no longer be a Digidestined.
2) On that note, don't come in here and make shitty half assed posts. That shit ain't going to fly. I'm not asking for a fucking novel over here, but I'm going to ask for quality posts. I mean, I'd rather wait a month for a long ass quality post, then get fucking shit each week. If you RP in the BA, think of the standards like that.
After three warnings, I will kill off your Digimon in a gruesome or humiliating manor, and you will no longer be a Digidestined
3) If somebody is being OP or OoC
anybody
can call them out on it. To do this, simply go into the discussion thread and bring up the issue. This will be up for debate by all members and I will make the final call. (While this is going on, the RP will be put on hold. This is so we don't have to go back and due a mass edit because that shit is fucking annoying.)
4) On that regard, any and all OoC talk should be done in the discussion thread. The RP thread is for RPing, not little side conversations. Only use the OoC if you are using foreign words in your post which need translation. (Also, it is
highly
advised to check for updates in the discussion thread before checking the updates in the RP thread.)
5) If your character witnesses an event which will be significant for them later on, you
must
make a post about the effect it has on them. This can be as simple as a thought; just so we know how your character feels about the situation and aren't blind sided when it is mentioned later on. Also, even if you don't think it will effect them that much later on, you should mention how they feel about it at the least because this will allow for character development.
6) If your character has no business being there, don't put them there. In the beginning, the rival will be popping out of nowhere, but this is part of their job description. However, this is unique to the rival only.
7) You
may
fight the other characters and their partners. However, you
may not
kill them without the other person's consent. You also must have a discussion with the person you are fighting outside of the RP thread on how the fight will play out and who will win, if there is a winner.
If somebody asks you to change something their character did in your post,
do it
. It is their character and they have final say.
9) If you do not get approval for something that involves another person's character for whatever reason,
do not do it.
10) Rules can be changed or amended as problems arise in the RP.
[/espoiler]
Roles
[espoiler= 'Because we ain't all going to be the fucking leader']
Gogglehead-
The leader of the group. The goggle head at first should be lost as of what is going on along with everybody else. He/she should have a personality that somehow draws people to him/her and is typically the most powerful (in the end) of the group and has the fastest learning curve. Character must have goggles on their persona. This is a must. Otherwise you are just a shitty leader. (
This role is taken by Shrub.
)
Rival-
The mysterious person who is the only one who has an idea of what is going on initially. (Sorta at any rate.) They should be constantly showing up out of nowhere and offering tidbits of information to the Gogglehead and whatever characters have joined his group. The rival, is at first, the more powerful of the digidestined, but will get eclipsed in power as the Gogglehead character grows. They, however, will remain as the second strongest next to the Gogglehead. (
This role is taken by Ruki.
)
Brainiac-
The smart one of the group. While they don't have any information at first, they will be the quickest one to piece things together. Also, while they aren't typically the strongest (they can, however, be the fourth strongest), they have the brains and willpower to make up for their lack of strength. At some point, their information on what is going on should surpass the rival. (
This role is taken by Sam Nornalious.
)
Mystery Man-
Has about as much clue as to what is going on as the Gogglehead. Seems to show up just in the nick of time or when needed then seems to disappear. His strength in the beginning is only surpassed by the rival and seems to stay that way the entire time. So essentially 3rd strongest in the end. Has no course or direction and seems completely neutral in the beginning but joins the group later on. (
This role is taken by Shrub.
)
Rebel-
Disrespects the authority of the Gogglehead and constantly question his/her authority. Also, may try to leave the group at some point, but end up coming back. (
This role is taken by Shrub.
)
Other-
The other positions have more of a leeway of what you want to do. There should be different strength those listed above can't bring to the table. Maybe they are a trap master or is an excellent spy. Maybe they are like Ken from Zero Two, and are the Digimon Emperor (whether if you want them to be evil or not is all up to you.)
[/espoiler]
Different types of Digidestined.
[espoiler='Adventurer']
This suave mother fucker is from the first season of Digimon, or Digimon Adventure. Its the easiest Digidestined to figure out (no extra gimmicks and all that shit) and the best for people who really aren't all that familiar with the Digimon lore.
The technical name for this digivice is Taichi Digivice, named after the first leader of the first generation of Digidestined. It was the first digivice, therefore it is typically just known as the Digivice. This type was created by the Gennai group of Digiworld Guardians in response to a prophecy.
The abilities of their Digivice include the following:
Built-in clock.

Ability to scan Digimon for name, level and main attack.

Digivice beeps when in the presence of any other type of Digivice. (i.e. tracks the signals of other digivices)

Can DNA Digivolve

The Digivices also have a meter that shows how close the Digimon is to digivolving; the height of the meter is related to the severity of the situation.

They can project beams of light that have debilitating effects on evil Digimon and those under the control of a Black Gear will have it forced from their body, while those who are simply unpleasant in nature will be turned to goodness. These beams can restrain Digimon, and, on one occasion, combined to create a force-field that contained a massive explosion that would've destroyed the entire Digital World.

Adventurer can DNA Digivolve with other Adventurers and Digimentalists. They are also the quickest learning curve at first. There is also no outside factors to worry about except for perhaps Dark Digivolution.
However, an Adventurer needs to go on a hunt to go find their Crest which be in the Digital World, unless specific permission is granted by the DM (myself) for a case otherwise. In addition, it is
very
hard for them to reach mega. This is due to the fact in the original series only two of the eight Digidestied ever reached Mega. (Taichi and Yamato.)
[/espoiler]
[espoiler='DigiMentals']
These guys are from the second season of Digimon, or Digimon Adventure 02. They are a bit different from the Adventurers in the fact they do not simply Digivolve. Their Digivolution relies on the different types of eggs throughout the Digimon World. Each egg has a different evolution for their Digimon. The first egg you will find is your crest egg and you can only find eggs (and take eggs) based on character growth. For example, if you find the egg of kindness and you are a mother fucking jackass, you ain't picking that shit up.
The D3 were first created by the Harmonious Ones, who are the guardian digimon of the four sacred directions (north, east, south, and west). They were created along with the Digi-Eggs, which are an ancient form of evolution that was long forgotten, suggesting that this type of Digidestined actually may have existed even before the Adventurers. However, the only ones recalled were those who used the D3s after the Adventurers.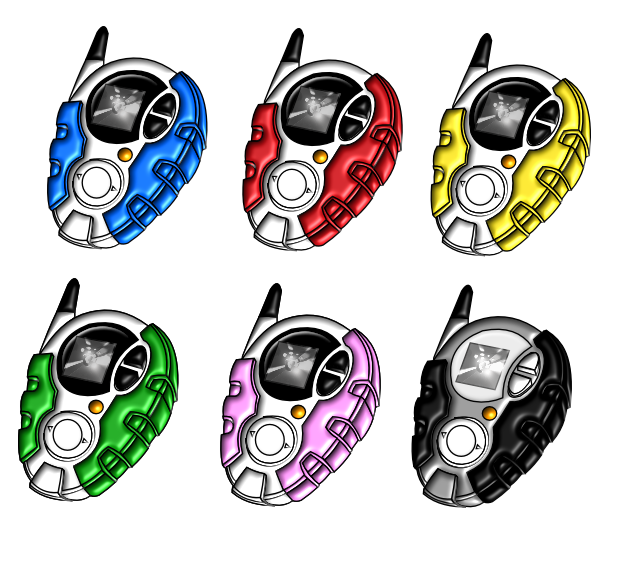 This Digivice is slightly more complicated then the Adventurer Digivice. The proper name for this Digivice is called a "D3." In addition, later on in the story the characters who are this Digimon type will receive a device known as a D-Terminal.
This device allows the store of multiple eggs and the ability to instant message and function and I will allow it to function as a mini computer.
The abilities of the D3 are the following:
Ability to scan Digimon for name, level and main attack

Can DNA Digivolve

Allows Armour Digivolution

Ability to access the Digital World through computers. (With the exception of a D-Terminal.)

Armor Digivolution is special because even though an armor Digimon may be classified as a "Rookie" they have the strength of Champion. Each level they are classified as, they are the level above it.
However, this is also a side effect. If the Digidestined does not go through the character growth or just fails to find stronger eggs, they will not be able to reach the higher levels which are needed to survive in the turbulent Digital World later on. In addition, they are the last ones out of the group to reach their normal Champion form. They can
only
Digivolve by themselves to Champion. DNA Digivolving between two Champions will result in an Ultimate Digimon.
[/espoiler]
[espoiler= 'Tamers']
I may be biased (OK, I am) but Tamers are the coolest mother fuckers around. They are from Digimon Tamers, the third season. They are unusual in the fact they have cards which are used to factor into their strategy. So, while this can give them an edge, it can be incredibly difficult for beginners to play. Tamers should have at least watched some of the season to understand how the D-arc works, especially in relation to cards.
These were originally created by the DigiGnomes. They were creatures that evolved on their own and possess the ability to grant wishes in both the Digital World and the Human World. Technically, the D-arc and the blue cards that transform card readers, were created both by the DigiGnomes and the Monster Maker, Gorou Mizuno or "Shibumi," who was also among the other Monster Makers who first created the Digital World and Digimon as well the D-reaper program together. The DigiGnomes basically granted Shibumi's wish and brought the designs of the digivice and the blue cards to life.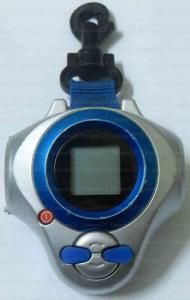 You better believe this Digivice, or D-Arc (or if you want to be lame, D-Power) is fucking complicated. It has several additional abilities which the first two don't have, and give Tamers a serious advantage in a fight if used correctly.
By swiping a card, a partner Digimon gains the ability of that card for a certain amount of time. This has incredibly important strategic value if used correctly. (If not, shit gets fucked up.)

They have the ability analyze nearly every single Digimon it comes across. (This is known as a scan.)

It has a compass/radar function which detects aggressive Digimon nearby in the Human World.

It opens a window in the screen so the Tamer can see what their partner is seeing as they fight.

They have a port which can be connected to a computer. They cannot be used to enter the Digital World, but with a card which will be given later, they will have the ability to hack said computer.

Tamers in addition, when they become fully linked with their partner will Biomerge together to Mega. (As a result, the true Mega form of Tamers
must
be humanoid.)
However, while there is high strategic value in the Tamer, if your character is a pussy or doesn't work well with others, you may want to opt out of this character type. Tamers as they form a bond will receive the pain their partner receives. Although it is just a fraction of what the actual Digimon feels, it still hurts. (Especially when you aren't expecting it.)
The partner is one of the slowest to Digivolve to the next level because the two must make the deepest link before this can happen. (So, basically to Digivolve you need character growth on
two
fronts.) However, once this occurs, the Tamer may use the Digievolution card to Digivolve them at any point. However, to Digivolve into ultimate, they must make the blue card appear. This is done by wishing to 'protect.'
[/espoiler]
[espoiler= 'Spirit']
These mother fuckers are weird. They are from Digimon Frontier, or the fourth season of Digimon. They don't have a partner Digimon. Instead, these weird ass fuckers
are
the Digimon.
These are called D-Scanners and they were originally created through Ophanimon's power, no doubt to allow humans to use the Spirits and fuse with them and come to her and the Digital World's aid as its Fractal Codes were being consumed.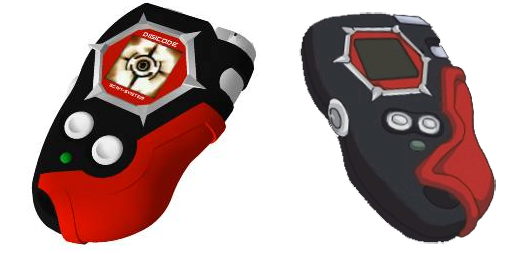 These Digivices are unusual because they change from the character's cell phones. (They can't do any fucking calls or text, so you better get your ass to the store and buy a new one after this shit happens.)
The powers of D-Scanner include the following:
They can scan Fractal Code. This is important because everything in the Digital World is made up of Fractal Code.

This Fractal Code power allows Spirits to scan the code of fallen Digimon they have defeated and send it back to the Village of Beginnings. This is particularly important when defeating Digimon in the Human World because if a Digimon dies in the Human World, they are just dead. In addition, a Digimon which returns to the Village of Beginnings through a Spirit is purified. In addition, they can repair broken bits of the Digital World.

Their Human Spirit form is a Champion. So, they start out as a Champion mother fuckers.

It has a compass/radar function which detects aggressive Digimon nearby in the Human World.

D-Scanners can communicate with other D-Scanners and with the spirit itself.

So, as you can see Spirits are very important in the healing aspect which the heroes will need to do.
However, they are one of the slowest growing classes. While they start out as heavy hitters, it takes them forever to get their Beast Spirit (or ultimate form), and they need time to learn how to control both their human and beast spirits. In addition, they need an upgrade to their D-Scanner, so they can Digivolve to Mega. This is done by fusing the Beast and Human Spirits together, and thus the D-Scanners must be upgraded to enable it to fuse them.
When upgraded, the color scheme inverts and there is a gold rim around the screen: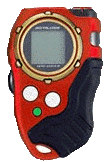 [/espoiler]
[espoiler= 'Savers']
Savers. These guys are from Digimon Savers or Digimon Data Squad, which is the fifth season. This season, besides having the shittiest leader because the leader didn't have mother fucking goggles, is my least favorite season.
The Data Links were created by Suguru Daimon and DATS. To be more specific, Jenrya Lee created the protoype when he founded DATS. He used the D-arc as a base. Therefore, other than the D-arc, it is the only other Digivice that was created by a human. Obviously, Daimon was the first to discover Digisoul and how to utilize it through these devices.
These Digivices have the shittiest name. The Data Link Digivice? I mean seriously, come fucking on. They are unusual in the fact that they allow a Digimon to Digivolve based on the emotion of the partner. This emotion is represented in a Digimon Natural Ability Charge (D.N.A. Charge) or if you want to sound like less of a jackass, a Digisoul.
We can also shorten the name of the digivice to D-Link. The first version of the D-Link is the iC, which allows the basic Charge which allows digivolving to Champion and a Full Charge which enables digivolving to Ultimate. It is typically white with the specific color aligned with the individual person as it appears in the picture above.
"Charges" are also known as Air Signals. Aura is for the Champion level charge, Barrier is for the Ultimate level charge, and Burst is for the Mega level charge and beyond.
However, to reach the levels of Mega and Burst Mode, one must possess the next version of the D-Link, which is the Data Link Burst or simply Digivice Burst. Or even D-Burst or D-Link Burst for short if we want. It takes the energy for the Overdrive Charge or the Burst Air Signal without breaking unlike the D-Link iC, which allows evolution to Mega freely. It is also capable of releasing a Digisoul Burst Charge, which allows for the Burst Mode evolution.
The Air Signal Port on the side of the digivice is used to synchronize the wavelength of the Digisoul Charge between the human and the Digimon. Waving one's hand near the Air Signal Port unleashes an ultimate power, so strong that it can even kill the Digimon in the process, this is how the Burst Mode activates.
It is distinct from the normal D-Link in appearance typically by being black and the specific color for the individual as well as a few structural designs.
Abilities/Functions:
It can store at least one Digimon inside, via pressing a button. If the Digimon isn't too big or doesn't have too much "data" typically the Digimon will not be able to get out until the person released them by pressing one of the three buttons, typically the first one. A Digimon can get "caught" by the D-Link via a port on the butt end of the digivice.

The Air Signal port which is found on the side of the D-Link Burst transfers energy in large amounts, can create weapons like the GeoGrey Sword, and activates the Charge.

The strength of the emotion, or the Digisoul, results in what level your Digimon can Digivolve to. So, lets say you are mad. That would be a Champion. If your pissed, that would be an Ultimate. If you are livid, Mega and if you are up and running to rip somebody's throat out, its Burst Mode.
(Burst Mode is a double edged sword. Depending on the emotion use to Digivolve, it can either fuck everything up and Digivolve into an extremely powerful Dark Digivolution which just destroys everything around it, or an extremely powerful ally. It also should be noted that only Savers have the ability to reach burst mode easily. The only other class which can reach burst mode is Tamers, and that's only through really holy fuck my god and DM permission circumstances.)
Savers are also unusual in the fact that they are the
only
class which works for the Government. So, while they will be in the know of what is going on, they will at first have a harder time working with the rest of the group. In fact, it will be pretty much impossible until leadership changes from Kasami Rin to Hotaru Naomi at the end of the second arc.
[/espoiler]
[espoiler= 'Generals/Hunters']
These fuckers are just weird. They are Digidestined from seasons six and seven, which lump under Digimon Xros Wars. They are the only group to have multiple partners because mother fucker they have a fucking army. Literally.
These are known as Xros Loaders, or rather X-Loader for short. These Digivices were originally created by various powerful Digimon in order to make a human their General, which would aid them in strategic battles. Omnimon and Bagramon are the only known Digimon who have created these Digivices. They created them based off the D-Link designs. They are at first white before they are claimed by a user, who must enter their name into the X-Loader by speaking their name. Then the X-Loader will change color to reflect the soul of the one who claimed it.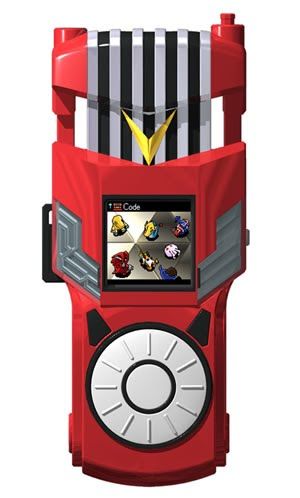 These Digivices have more strategic value than anything else. Their abilities are:
Able to store a Digimon's data to allow it to recover its health or transfer between Zones. Unlike the D-Link, the Xros Loader can store multiple Digimon.

Allows the user to perform DigiXros between the Digimon in their army. (Note: This is not a DNA Digivolution.)

Can use DigiMemories.

Can open portals between Zones and Lands already visited. However, to travel to new Zones, the Zone must overlap/touch with the current Zone they are already in. Once a Zone has been discovered and visited, the X-Loader can open a portal to it again anywhere, regardless of if it overlaps/touches or not.

Allows the user to Digivolve their partner Digimon to Ultimate

Can generate 3D maps of the Digital World.

Allows the user to travel between the Human World and the Digital World, but only when they are in either the Factory Zone.

Can track other X Loaders.

Holy shit, right? With all that shit, why wouldn't you want this Digivice?
Here's why.
First, the partner Digimon cannot Digivolve until everyone else reaches Ultimate. In addition, to gain people in your army, you need good people skills. The more the RP progresses, the harder it will be to gain allies. The Digital World will be run over by fear. We have to worry about not being stabbed in the back, let alone have time for making allies.
In addition, due to the sheer complexity of the sheer complexity of this, only people who have watched all of Xros Wars will be able to play as this type of character. Each time a new Xros is made, there needs to be a new Digimon sheet made out for it. Yeah. This class has
lots
of work involved.
[/espoiler]
Right, so now that you've chosen what type of Digidestined you are going to be, time to make your character. Now, there are some general overall rules which
must
be followed when creating your characters.
Character Creation Rules
[espoiler='Read this if you want your character approved']
1) First and foremost, I will be looking over and approving all characters which will be created. A character cannot RP until it is approved by me. How do you know its approved? A liked post.
2) Human characters should be fucking humans. So, basically, no god modding this shit. They should not be Olympic level swimmers or archers, or what the fuck ever. We aren't fucking super humans here. While each should have a skill set, it shouldn't be like "oh yeah, she's a telekinetic, lolz."
3) On that note, no one skill set will overlap another. If one person is a martial artist, better look for something else. (Actually, I lied. Very few skill sets may overlap each other, such as street fighting. However, there
will
be one person who is better at it then another.)
4) You may
not
have your main human character related to the human digidestined in any way. No descendant. No reincarnation. Just. No.
5) You
may
have your Digimon partner be in some shape or form be related to a previous Digimon hero. However, this will be determined on a case by case basis, and must be talked over and gain my approval due to the vast impact it will have on the story as a result. (For example, Spirit Digidestined are perfectly able to use the previous spirits for their character. In fact, if you want a fire spirit Digimon, you
must
use Agunimon. Let's not make this shit any more difficult for ourselves then it needs to be.)
6) You
may
create your own Digimon. Sometimes, it may even be required depending on what type of Digimon you choose for your partner and what type of Digidestined you are.
7) Have both your human character and Digimon partner (and evolutions) in one post. Seriously, do you have any fucking clue how annoying it is having to search through the discussion for the different forms? Yeah.
[/espoiler]
Character Sheets:
[espoiler= 'Humans']
Name:
What is this mother fuckers name? First name then last name please.
Sex:
Male or Female? Transvestite? What?
Age:
How old are you?
Birthday:
Since there is a passage of time, we would like to know when your character is growing older.
Appearance:
What does this person look like? How tall are they? How much do they weigh? What's their skin color? Their hair color? Their eye color? What types of clothes do they wear? Basically, paint a picture for us.
Special Ability/Talent:
Please give us a full detailed description of what your character can bring to the table. Think about it as their "powers" if you will. Remember, no two characters can have overlapping talents. This is so we have a team which is spread out and covers each other weaknesses :3
Carried Possessions:
While this isn't needed, what is something you can
always
find on them, no matter what? (Note: For stuff related to Digimon, please put it in their appropriate areas.)
Type of Digidestined:
Are you an Adventurer? Tamer? What?
Digivice Color:
What color is your Digivice? (Note: It should be reflective of their role/personality.)
Role:
What is their role in the group? (If it's a new one, VM/PM me the description of what it can do. Or IM if you got me on AIM/Skype.)
Partner:
Whose your partner?
Crest:
While only the Adventurers and DigiMentalist need this, the other characters can have what crest they
would
have for funniez.
Cards:
Only the Tamers need this. There can only be up to 20.
Other:
Something important you think needs to be brought up? Put it here.
Personality:
Give us a full run down what to expect from this mother fucker.
Likes:
What do they like?
Dislikes:
What do they dislike?
Virtues:
What are their virtues?
Vices:
What are their vices?
History:
Lay down everything here. And I mean
everything.
I've had RPs ruined before because somebody brought something out of fucking left field from their past that they didn't think it was important to mention when they made the character profile. So, if your character was emotionally abused as a child and put into foster care or some shit,
put it in here.
There will be so many subplots which will happen because of character back-stories and hell, I will probably even purposely make mini events tailored to the back-stories of characters. (
Also, here is your warning now, if you do try the same shit as the person who ruined that RP I mentioned, you will be kicked out of the RP. There will be no second chances.
)
Family:
Tell us about your family. Or foster family. Or lack of no family. Since family will come to play a minor (or big part depending on your character) this shit will be important.
[/espoiler]
[espoiler= 'Digimon character sheet']
Name:
What is your partner's name?
Sex:
Is your partner a male or a female?
Appearance:
Give us a description of the typical form your partner will be in, so we know how to describe it typically. While you don't need to do this for all forms, give us a detailed description of the major form you will be mostly seeing.
In Training:
Link to In Training form
Rookie:
Link to Rookie form
Champion:
Link to Champion form
Ultimate:
Link to Ultimate form
Mega:
Link to Mega form
Slide evolution/Burst Mode:
This is mostly for Savers, but Tamers may due it to. Either way, it must be approved first as acceptable by the DM before linking it.
Personality:
Your partner has a personality. What are they like?
Likes:
What are their like?
Dislikes:
What are their dislikes?
Virtues:
What are their virtues?
Vices:
What are their vices?
History:
Before your partner came to you, they had some sort of history. This history will be particularly important, especially when we are in the Digital World. I will
definitely
be making side quests and mini events based on your partner's history, so let me know it.
[/espoiler]
[espoiler= 'Digimon Digimentalist partner']
Name:
What is your partner's name?
Sex:
Is your partner a male or a female?
Appearance:
Give us a description of the typical form your partner will be in, so we know how to describe it typically. While you don't need to do this for all forms, give us a detailed description of the major form you will be mostly seeing.
In-training:
Link to In-Training form
Rookie:
Link to Rookie form.
First Digimental Egg Evolution:
This must line up with the character's crest and personality. Additional Digimental Eggs must line up with the personality as well. If your partner isn't an established Digimentalist Digimon, check out the new Digimon character sheet on how to approach making the different Digiegg Digivolutions.
Regular Evolution:
Link to Champion form.
Personality:
Your partner has a personality. What are they like?
Likes:
What are their like?
Dislikes:
What are their dislikes?
Virtues:
What are their virtues?
Vices:
What are their vices?
History:
Before your partner came to you, they had some sort of history. This history will be particularly important, especially when we are in the Digital World. I will
definitely
be making side quests and mini events based on your partner's history, so let me know it.
[/espoiler]
[espoiler= 'General/Hunter Digimon']
Name:
What is your main partner's name?
Sex:
Is your partner a male or a female?
Appearance:
Give us a description of the typical form your partner will be in, so we know how to describe it typically. While you don't need to do this for all forms, give us a detailed description of the major form you will be mostly seeing.
Main partner evolution:
Should be Ultimate. (Unless its the main character; then it can be Mega.)
Side partners:
Fill out the below sheet for each side partner, and make sure you have it in espoilers like how I have it. In addition, you can start out with recruiting three side partners right off the bat.
[espoiler='Digimon name here']
Name:
What is your partner's name? Also, if it is not a fan made character, this is where you would link it.
Sex:
Is your partner a male or a female?
Appearance:
Give us a description of the typical form your partner will be in, so we know how to describe it typically. While you don't need to do this for all forms, give us a detailed description of the major form you will be mostly seeing.
Level:
Rookie, Champion, Ultimate, Mega?
Personality:
Your partner has a personality. What are they like?
Likes:
What are their like?
Dislikes:
What are their dislikes?
Virtues:
What are their virtues?
Vices:
What are their vices?
History:
Before your partner came to you, they had some sort of history. This history will be particularly important, especially when we are in the Digital World. I will
definitely
be making side quests and mini events based on your partner's history, so let me know it.
[/espoiler]
Xros Versions:
Oh this is going to be a bitch for you to fill out. Make sure to incorporate each Digimon in the Xros somewhere in here. Fill out like the espoiler below.
[espoiler= 'Digimon Xros name']
Name:
What is this called? Renamon Xros 4B? Guilmon, Terriermon Launcher mode? What?
Appearance:
Yeah, you are going to need to describe this bitch. Also, if you could draw it out, we would love you forever for it.
Attacks:
There can be up to four if it is a new Digimon. However, if it is just a Xros upgrade, there can only be one. Please be specific in what these attacks can do.
[/espoiler]
Personality:
Your partner has a personality. What are they like?
Likes:
What are their like?
Dislikes:
What are their dislikes?
Virtues:
What are their virtues?
Vices:
What are their vices?
History:
Before your partner came to you, they had some sort of history. This history will be particularly important, especially when we are in the Digital World. I will
definitely
be making side quests and mini events based on your partner's history, so let me know it.
[/espoiler]
[espoiler= 'New Digimon form']
Name:
What is their name.
Sex:
What is the sex of YOUR Digimon?
Level:
Baby? In-Training? Champion? Ultimate? Mega?
Type:
Dragon beast? Dragon? Lizard?
Attribute:
Data? Vaccine? Virus?
Appearance:
Once again, you are going to have to be
very
descriptive in this.
Description of Digimon:
What can we expect from this Digimon as a whole? Like for example, here is a description of a Dorumon:
Dorumon is a Beast Digimon and carrier of the X-Antibody whose name is derived from "DIGITAL OR UNKNOWN MONSTER". Because it has an old-style interface on its brow, it has been conjectured to be an experimental "Prototype Digimon" from before Digimon were discovered. The personality of natural Combat Species Digimon manifests particularly strongly within it, so its combat instinct is high, and it often barks and snaps at everything, but it seems that it was tamed by someone it once bit. The data that is said to have been hidden within the deepest parts of its DigiCore, during an experiment, is the potent life-force data of the legendary beast, the "Dragon", and it is said it has the potential to grow into a mighty Digimon.
Something like that I guess.
Attacks:
You can have up to four attacks. Please be descriptive in what they can do.
Personality:
Your partner has a personality. What are they like?
Likes:
What are their like?
Dislikes:
What are their dislikes?
Virtues:
What are their virtues?
Vices:
What are their vices?
History:
Before your partner came to you, they had some sort of history. This history will be particularly important, especially when we are in the Digital World. I will
definitely
be making side quests and mini events based on your partner's history, so let me know it.
[/espoiler]
Other Important Notes to Consider:
The human city this takes place in is Shinjuku, Japan.

There will be a passage of time. RP time wise, it should take a little more then a year to go through. So, there is plenty of time for character development.

People Playing:
1) Ruki
2) Shrub
3) Sam Nornalious
4) Haagar212
5) Twi
This is now closed
Characters:
[post=4922895]Kira Evans Stone[/post]| Shrub
[post=4922939]Shiki Taiga[/post]| Ruki
[post=4925099]Khaz Serwen[/post]| Shrub
[post=4922941]Ari Utuaga[/post]| Sam Nornalious/[post=4923724]Rontu Nakai[/post]| Shrub
[post=4923782]Ren Nevisu[/post]| Shrub
[post=4923653]Molly Winchester[/post]| Twi
[post=5277065]Masaru Sho[/post]| blackbird
[post=4921935]James Akita[/post]| Haagar212
[post=4962010]Takara Yuudai[/post]| Shrub
[post=5161297]Kai[/post]| Shrub
[post=4923751]Terrin Stone[/post]| Shrub
[post=4925150]Leita Serwen[/post]| Shrub
Others:
[post=4924218]Tasuki Nevisu[/post]| Shrub
Important Story Shit:
[espoiler= 'Story arcs']
The RP will be divided up until four different "arcs." There will and should be a passage of the year at least. As a result, we will begin using the 2012 calender for dating (like saying Halloween falls on a Wednesday) then going on to the 2013 calender on Jan. 1 and so on.
Arc 1:
The first story arc will begin on Aug. 27 when Dorumon sees Shiki breaks the school track record by three seconds and end on Shiki (or if somebody else decides to be the jackass who screwed them all over) declaring war on the DLF during Winter Break.
Arc 2:
Goes from New Years to the launch of the Juggernaut, which is two weeks before summer break. (Which starts on July 21.)
Arc 3.
This is the whole time in the Digital World. It should take a few months time because they are tromping around all over the place.
Arc 4.
This is the final battle. It should take at the very a week, if not more.
[/espoiler]
[espoiler= 'Timeline']
[espoiler='August']
Mon. Aug. 27
Dorumon leaves his village in the Digital World to go to the human world. He runs into a Butterflymon who helps him find a Digital Fissure and bodily throws him into it. This is watched by a Dracmon.
Shiki Taiga wins the track meet, breaking the school record by three seconds. Dorumon and Ari watch this.
The transfer students Kira, Terrin and Rontu arrive in Japan.
Tues. Aug. 28
Fist semester, part two: first day back. Study abroad students are introduced. Shiki and Leita are chosen to show around Kira, Rontu and Terrin. Khaz, much to Shiki's dislike, tags along. Khaz teases Shiki the entire time, much to her displeasure. After the tour is done, Shiki runs into Dorumon, Hotaru watching. Hotaru goes up to Khaz, gives him a Data Link to piss off her boss and be mysterious and a totally non stalker. Kira swipes a blue card through Terrin's card reader, getting a D-arc. Ari and James talk. (Basically, this is a WTF day.)
Wed. Aug. 29:
It's the second day of school, and things start off slowly. For the most part. Ryudamon materializes and begins to stalk Molly, setting off both Kira's and Shiki's D-arc. Neither realize what's going on, and Shiki thinks hers are broken.
Khaz harasses Shiki in the morning asking if she saw a woman in her 30s yesterday, and Shiki (sarcastically) tells him no, but she did run into a "talking purple bi-pedal tiger dog."
Ren beats up the class president Hideki and puts him in the girl's locker room, and Hideki doesn't return until lunch when somebody finds him.
Speaking of lunch, talk about a huge fiasco. Shiki studies her D-arc only to get interrupted by Terrin who recognizes the device. She tries to talk about it, only to contentiously be interrupted by a series of events. (One of which being Molly interrupting them, and Shiki snaps at her, effectively scarring her off.) James gets into a fight with Hitaka Jihori, a kid in his class, and he absconds into Shiki's classroom to hide. Ren and Tasuki beat up Hitaka for James, getting in trouble for their efforts. Ari falls into a Digital Fissure, where he runs into Guilmon, who thinks he is trying to commit suicide. Guilmon offers to off him, before he realizes Ari is a human and decides they are going to be partners.
After lunch, Shiki talks to Kira and Terrin about the D-arc for a bit before Shiki needed to go to track. Shiki runs to her meet, only to run into James and knock him unconscious. Unable to leave him behind, but refusing to be late, she ropes in Tatsuki to help her. (He agrees to clean his record.)
Ari and Guilmon are being chased by an Ultimate, and Kira and Terrin go with Molly to check out clubs. They stop near the track only to run into Shiki. Terrin manages to convince Shiki to show them to the art room. They arrive there to see Leita painting her and Khaz's dad, making things awkward.
Shiki buys some Digimon cards, learning more about Digimon. Ari and Guilmon realize back in the Human World, setting of Dorumon's senses and the D-arcs again. Shiki goes to investigate, but finds nothing.
Thursday, Aug. 30:
Dorumon insists on following Shiki to school, fearful of the fact that there are two Digimon unaccounted for. Khaz has nightmares as the anniversary of his parent's death approaches.
[/espoiler]
[/espoiler]
[espoiler= 'Key Events']
D-arc lunch fiasco

Ari vs. the Digital Fissure

Ari meets Guilmon

Stones and Taiga talk about the D-arc

[/espoiler]
[espoiler= 'NPCs']
Kasami Rin:
Rin is a young man in his late 30s. He stand's at 6 feet. He has the slanted eyes which are known for those of Asian descent. His lips are almost always pulled back in a grimace, and his idea of a smile is a frown.
He has long black hair which reaches half way down his back and is tied in a low ponytail. He has piercing brown eyes.
He always wears a black suit.
Rin is a serious man who takes his job way too seriously. He as Hotaru explains it perfectly "has a stick up his ass." He is the first director of DATS, and is the man responsible for the launch of Juggernaut and the spectacular "history repeats itself" which ends Arc 2. His goal is to eradicate all Digimon which come through the firewall and doesn't even enjoy amusing the possibility of working together with the Digidestined. He is quite manipulative, and knows how the play the government to his wishes. He's a man who knows what he wants and will stop nothing to achieve it.
Naomi Hotaru:
Hotaru is a young woman in her early 30s. She stands barely above 5 feet (but don't let her short height fool you-she'd kick your ass easily.) She has long brown hair which goes just past her shoulders and green eyes. In addition, she has larger breasts then what is commonly associated with the Japanese woman, and among her other good looks, she constantly uses her sex appeal to help get what she wants.
She, like Rin, wears a black suit. However, to troll him (and others) she has the tendency to wear bright and ugly ties with it.
The second in command of DATS, and takes over after Rin "steps down." She takes a more proactive approach to the Digimon, and instead of trying to eradicate them like Rin and DATS did in the past, she takes on working with the Digidestined to control the Digimon problem like DATS earlier incarnations before the invention of the Fire Wall which separated the Digital World from the Human World.
She has a happy go lucky attitude, and can be snarky and sarcastic at times, especially when it comes to Rin's perspective on things. While she is willing to work with people where Rin was not, do not thing she is a woman who can be pushed around. She knows how to stand her ground and how to manipulate people as well. She's just not as slimy about it as Rin is.
Kudamon:
Kudamon is a mysterious Digimon who comes in at the end of Arc 1, claiming to be Dorumon's friend from the past. A past which Dorumon cannot remember. Kudamon motives are unclear, but for the moment he seems very helpful towards the Digidestined. However, there seems something a bit off about him...
Ai Makta:
Ai Makata is a young woman in her late 30s with long brown hair (which is typically pulled back in a loose ponytail) with streaks of orange throughout. She has a slim, model like figure, however, her most striking feature is her violet eyes. She tends to wear business casual clothes in school, and when she is found outside, she surprises those who know of her with her tendency to wear loose fitting casual clothes.
She is the teacher of 1-1, and has the personality and reputation of not taking any shit from anybody. She isn't afraid of keeping particularly trouble children in line - in facts its a talent of hers. She takes what she does very seriously, and gets seriously pissed off whenever anybody messes with one of her students. She is incredibly fair when she makes her judgements, even if they tend to be in the "tough love" steam.
However, there is something unusual about her and seems to know a lot more about Digimon then a high school teacher should...
Rika Tatsumi:
Rika Tatsumi is the school nurse. She is a woman in her late 20s with short blonde hair and piercing green eyes. She has an athletic figure, but has a slight limp in her left from an injury she sustained in her college sports days.
She tends to wear casual clothes with only a white lab coat over it which suggests she isn't some random civilian wandering the school halls. She is able to get away with her lax dress code due to the fact she is the best at what she does. She was unable to get a job at a better school since nobody wanted to take a chance on a fresh college graduate.
Rika tends to be very popular with the athletes since her main area of study is in sports medicine. Her typical easy going attitude and well thought out advice though is appreciated by any student who goes down to see her. She typically treats students as equals due to the fact as she doesn't see herself as an adult.
However, she has a hidden, more quick to anger side which is commonly seen with her interactions with Shiki Taiga who is a frequent visitor (not out of her own violation) to the nurses office to the point both blondes are on a face name basis with each other. Despite this though, Rika does care for her and every problem student which comes her way.
Nottuu Nevisu:
Nottuu is an extremely tall man, standing at 6' 6" and usually in a finely tailored suit of pale gray and white. His dark black hair is long and sometimes pulled back in a clean ponytail. However, he is more often seen with his hair down. It reaches to the middle of his back and his bangs reach to his elbows. His eyes are a light shade of clear blue. His tallness and blue eyes are from a distant European ancestor. In his tallness, he appears lanky, though there is plenty of long tight cords of muscle under the suit. Nottuu's affect is usually impassive, coolly blank. His blue eyes often lifeless. His face is long and heart-shaped.
Nottuu is the father of Ren and Tasuki as well as the leader of a prominent yakuza organization. He is an emotionless man who appears to care very little about his sons except for how they might be useful to him. He is calculating and cold. There are tales of when Nottuu was not such a heartless man, but those days are long gone.
Nottuu's moles have pierced into the DATS organization and managed to make some deals with their leader due to the sensitive information they discovered. The deal involved giving Nottuu a couple of the Data Link Digivices. Nottuu is interested in the digimon and the digital world only in so far as what it can offer him and Nottuu sees digimon as weapons and tools rather than as living beings.
He searches for the perfect and ideal digimon to become his new partner in crime.
[Not to be used without permission]
Hideki Narita
: Hideki is the class president of 1-1. He looks somewhat like a girl, partially because of the long flowing black hair that he keeps back in a ponytail similar to a samurai's. But his face is also just more effeminate in nature. In addition to this, he is rather short, standing at 5' 3" and weighing in at 130 lbs.
Hideki likes to throw his weight around as class president when he feels like it, but mostly it seems like he is never there when you actually need him. He mostly turns up to act superior when it only annoys you. He likes the sense of power that comes with being class president more than he likes the actual work of it. He mostly likes to show up and sound self-important and then boss people around. He doesn't do anything unless it is to make him feel better about himself.
Akemi Sasaki:
[
image 1
,
image 2
,
image 3
] A girl of class 2-3, who is model beautiful. She stands at 5' 5" and is about 115 lbs. She has long black hair that is perfectly straight and reaches down just above her butt. Her skin is pale but healthy. Her complexion perfect and clear. She wears light make-up which gives her beauty a more natural look. Her curious and innocent eyes are a dark brown. She is somewhat tall for a girl but in an elegant and petite way. Akemi has a mature look to her appearance. She often wears designer outfits when not in school, her make-up is an expensive brand as is the acrylic nails she often has.
Akemi is a naturally popular girl, due to her beauty, elegance, refinement, femininity, and a wealthy family to support her refined tastes. Many girls look up to her. Her father is a CEO of a very successful computer and technology company.
One could also call her the unofficial leader of Khaz Serwen's unofficial fanclub of girls that he often has affairs with. She is one of Khaz's regular friends with benefits.
[Not to be used without permission]

Dr. Kaede Fukui:
Khaz's therapist he sees once a week or so. She typically wears a professional black skirt down to just above her knees. Black dress shoes with modest heel and a dark green blouse. She is youngish. Probably in her late twenties, and very pretty in a sweet sort of way, but with her black rimmed glasses, she often exudes more of a professional aura that makes her seem more rigid in a way. Her hair is the typical natural black for Japanese and she has light brown eyes.
[Not to be used without permission]
Naoki Izanagi:
[
image
] President of the drama club. A second year but not in the same class as Khaz or Ari. However, the year previous, he was in the same class as Khaz. He's the handsome, charming, and energetic leader of the club. One of the best actors of the club, but he still refrains from taking the lead roles on a constant basis. He's tall, six foot, and rather attractive. His hair is black, kind of long and wispy in the back like a tail, and shorter in the front. His eyes are dark gray. He was in the class play last year of Romeo and Juliet as Mercutio.
[Not to be used without permission]
Yutaka Takehiko:
[
image
] Secretary of the drama club, Naoki's best friend. He is usually in tow right behind Naoki. He's more mild-mannered and gentle in his general nature than the wild and exuberant Naoki. They have known each other since childhood. His hair is a lighter brown in color and he has light blue eyes, while being sort of baby-faced. He's shorter than Naoki as well. He played Benvolio in the Romeo and Juliet class play the year previous.
[Not to be used without permission]
Izumi Kasumi:
[
image
] Vice President of the drama club. She's also a second year. She was also in the class play last year of Romeo and Juliet. She played Juliet. She's a very mature but prideful girl. She takes her acting very seriously. She intends like Naoki to become a professional actress. She's very beautiful with a natural black color of hair that is very long, all the way to her butt, but with short bangs that frame her face. Her eyes are a light brown. She's so beautiful she almost looks like a princess.
[Not to be used without permission]
Kei Midori:
[
image
] New but talented member of the drama club. She's a first year student, so she was not in the class play the year previous. She's a sweet but kind of moody girl. She is best friends with Izumi. She has a fiery spark in her personality. She is very taken with acting and wants to give it her all. Partly to gain praise from Izumi who she thinks very highly of, like a big sister. It was Izumi who inspired Kei's interest in acting. She's got talent and is proud of it. She's a pretty girl with long natural black hair the parts to the side. Her eyes are a forest green.
[Not to be used without permission]
[/espoiler]
[espoiler= 'Class break up']
Kira Stone:
1-1 (Reason: Study Abroad Program)
Shiki Taiga:
1-1
Masaru Kaze:
2-3
Khaz Serwen:
2-3
Ren Nevisu:
1-1
Rontu Nakai:
1-1 (Reason: Study Abroad Program)
Terrin Stone:
1-1 (Reason: Study Abroad Program)
James Akita:
3-2
Ari Utuaga:
2-3
Molly Winchester:
1-1
Leita Serwen:
1-1
Tasuki Nevius:
3-2
Those in the Same Class:
Class 1-1: Kira, Shiki, Rontu, Terrin, Molly, Leita, Ren
Class: 2-3: Khaz, Ari, and Masaru
Class 3-2: Tasuki and James
[/espoiler]
FAQs:
[espoiler= 'On the Digital World']
Upon Entering and Leaving
There are two ways to enter the Digital World after everyone has their Digimon.
1) Through the D3. Digimentalists has the special ability to open a gateway to the Digital World with the D3 on any computer (except their D-Terminal). This link will remain open until the Digimentalist closes it from the outside world. To return, all one needs to do is go back to where they first appeared and look for an out of place computer. When going in and out, one must present their Digivice as like a passport. This is the safest, surefire way in and out of the Digital World.
2) Through a Digital Fissure. A Digital Fissure is where the Human World and the Digital World meet and intersect. Each Digital Fissure lasts no more then five minutes, so relying on the same Digital Fissure that allowed you to come into the Digital World to get you out is fool-hearty. Only characters who had their Digimon come into the Human World on their own power can through a Digital Fissure can rely on finding a new one. Remember, a new Digital Fissure will
not
take you back from where you came in, but from to somewhere new. Say you entered through an alley. You could easily reappear in a park. However, in the beginning, we will always be brought back somewhere in Shinjuku.
3) The Arc. The Arc is a free roaming shuttle more or less that travels the entire Digital World. It looks like a bigger version of the Tamer's D-arc. You should
not
count on this method to get home. The odds of it being in the exact right place in the exact right time are astronomically low, and you literally would have a higher chance of winning the jackpot in the lottery. However, as the plot goes on, the Arc will be a more reliable mode of transportation. This is because of
On Digital Fissures:
Digital Fissures are the intersection between the Human World and the Digital World.
Below is the ending to Tamers, and that data glowing thing should be what a Digital Fissure should look like. They are glowing white-pink patches of light with little squares.
Levels, Quadrants and Areas of the Digital World
While the Digital World does have several levels, we won't be worrying about that. The only time the level change should be noticeable is when walking through the Digital Fissure. It should be like walking through a sea of 1s and 0s.
However, what we do need to worry about is the Quadrants and the areas in each of the Quadrants. As of right now, I need to decide which area goes in which Quadrant, but in the beginning until the plot ball gets moving we will stay in the Southern Quadrant, Forest Area.
On Data Links:
Data Links are these giant pink beams roaming the Digital World. They are kind of annoying in the fact if you get sucked in by them, you get dumped somewhere else at complete random. Let's say you are in the Southern Quadrant, Forest Zone. If you get picked up by the Data Link, it can easily bring you to the Eastern Quadrant, Dessert Zone. It is a complete hindrance in all sorts of the words, and should only be used when you are royally fucked otherwise. Or, if you just want to fuck around and get separated from the group. Also a possibility and always fun.
Elements of the Digital World:
There is all sort of elements in the Digital World. Just like the Human World, the Digital World has trees, oceans, volcanoes, etc. However, unlike the Human World certain things can be ignored once you realize its just data. That being such things being able to breathe underwater. Also, non extreme temperatures. If a temperature is slightly chilly, and you know its data, you will be comfortable. Same with its a big hot. You will be comfortable. However, if it is more towards the extremes, like you are in the middle of a freaking blizzard, not only will you be cold, but you will be threatened with frost bite.
And even though you can breathe under water once you figure out that its just data, that doesn't mean that you aren't affected by things such as tides, water pressure, etc.
In addition, there is no transition of night and day. Lets say its day. A huge blanket of darkness will sweep in and then its night. Problem bro?
On the Inhabitants of the Digital World:
Normally Digimon in the Digital World are peaceful, and there is a good probability you will meet a Digimon who is the same type of Digimon as your partner.
Digimon cannot evolve on their own without extreme circumstances. Digimon who are partner with humans have the ability to go back and forth of their Digivolutions with ease. This is met with awe and jealously by some inhabitants of the Digital World. Some even view a partner Digimon as weak to have to rely on a human to Digivolve.
Humans and their partners should be incredibly wary when traversing the Digital World. This is due to the DLF using both propoganda and terrorist tactics to control the Digimon using propaganda and terrorist tactics.
On Digital Fields
Tamers and Spirits have a distinct advantage over the other two of knowing where Digimon who have appeared into the Human World are. These Digimon are known as "Wild Ones." While each partner will "sense" when a Digimon has appeared, due to the nature of the Tamers and Spirits Digivice they will have a compass guiding them to their location.
When each Digimon appears, they are inside what is called a "Digital Field."
Ignoring how this is a AMV (sorta), notice the area around the Digimon is typically pinkish in color? That is how a Digital field looks on the inside. On the outside, it is an incredibly bright, and nobody can see what the hell is going on and to enter you must have a pair of sunglasses.
Think of a Digital Field like a storm.
Inside the eye of the storm is pink and calm, and this is where the Digimon is. It isn't incredibly bright, but it will look how it is shown in the video. The storm itself is pretty bright, and you must have sunglasses to enter so you can see. As a result, every Digidestiend who knows they will be fighting on a constant basis must have a pair of sunglasses. Of course, they shouldn't figure out they need a pair until they encounter their first Wild One. (Aaron can use his goggles.)
On Wild Ones:
Wild Ones will always try to beat you up. They are mean, nasty bastards. They will start at Rookie and slowly work their way up in power as time goes on.
On Defeating Wild Ones:
To defeat a Wild One, you must kill it. Once killed, its body will erupt in bits of blue and red data. It is up to you or your Digimon if they want to absorb the data. The data will make them stronger, but not by much.
Also, gathering data doesn't make you evolve any quicker. That's not how Digivolution works.
Important Note:
Digimon killed in the Human World DON'T go back to being a Digi Tama. The ones who are killed in the Digital World go back the Village of Beginnings.
On Digi-Tama:
Digi-Tama are Digimon eggs. They can be fallen warriors, or a mommy and a daddy Digimon got together and got it on. Either way, they all will be in the Village of Beginnings.
If a Digimon falls in battle, and their data is allowed to go back to the Village of Beginnings, they will be reborn. However, their personality typically does not stay the same. There has been only two documented instances where a Digimon returned to its Digi-Tama state, and kept its original personality. The first was in Digimon Adventure with Takeru's Patamon and the second was in Digimon Savers with Marcus' Agumon.
Can Digimon bleed?
Short answer: kinda. If they have "flesh" they can bleed. However, this isn't blood like human blood is. The blood is data loss. The more heavily injured a Digimon is, the less "blood" they will have and they will be more of parts of their body is flickering. Different Digimon have different colored blood.
As such, human first aid cannot be used to treat the wound. It will hide it, but it will not stop the data loss. The only way to stop the data loss is for:
1) Cards (Only works for Tamers and their own Digimon.)
2) Data packets. These look like pink tumbleweeds.
3) Time. If the Digimon is allowed to rest and doesn't fight, they will eventually get better. However, this is for non critical wounds. Critical wounds NEED care, otherwise they will die.
4) DigiGnomes. Don't count on these. These are the miracle bringers. They are the Des Ex Machina. If you want to use one of them, talk to me about it and why you NEED to use them. And it better be a good reason too.
[/espoiler]
[espoiler= 'Our Digital World']
Now, the current Digital World we have is still under construction, I know most of the zones and have them written down. These zones, plus a map and a description of each zone, will be
definitely
hopefully be available in time for Arc 3. But we mostly will be puckering around in the Jungle/Forest Zone unless otherwise stated, so here is that:
Jungle/Forest Zone
[/espoiler]
[espoiler= 'DigiMentalist Eggs and level of Digivolution']
Courage
[Fire]-Armor evolution with the strength of a Champion
Friendship
[Ice]-Armor evolution with the strength of a Champion
Knowledge
-Armor evolution with the strength of Champion
Desire
- Armor evolution with the strength of Champion
Boastfulness
- Armor evolution with the strength of Ultimate
Love
-Armor evolution with the strength of Ultimate
Sincerity
-Armor evolution with the strength of Ultimate
Reliability
-Armor evolution with the strength of Ultimate
Kindness
-Armor evolution with the strength of Ultimate
Tenacity
- Armor evolution with the strength of a Mega
Hope
[Light]- Armor evolution with the strength of Mega
Light
[Light]- Armor evolution with the strength of Mega
Miracle
[Light]- Armor evolution with the strength of Mode Change (ex: Gallantmon Crimson Mode)
Darkness
[Dark]- Armor evolution with the strength of Mode Change (ex: Gallantmon Chaos Mode)
Destiny
- Armor evolution with the strength of a Deus Ex Machina.
Note: The higher level the egg, the harder it is to find. So the Miracle/Darkness egg should be one hell of a quest and be found towards the end.
The Destiny Egg will be holy fuck, my god, sort of deal.
[/espoiler]
[espoiler= 'On the Tamers']
On biomerging:
Notice how Ruki and Renamon become one? This is how it works in the RP. So therefore, cards that effect the Mega level evolution cannot be used.
On the Blue Card:
Digimon Wiki explanation
Just read that. Basically, say you have a speed card. By wishing on it to protect, you can turn it into the blue card.
On Using Cards in Battle:
Each card can be used
once
per
match.
Each time you start a battle with a new Digimon, it is considered a new match.
In addition, just because you use a card doesn't mean it will work or do the intended effect. This mainly happens when a card is used incorrectly or the situation is that its not a good card to use. For example, when Guilmon and Terriermon got frozen by IceDevimon, Jenrya (Henry) tried to use a card which would heat up Terriermon. It worked, but failed to get Terriermon out of the ice because the heat wasn't intense enough.
However, card combos, when done correctly, can make a battle. For example, Takato's use of Power and Aero Wing allowed Guilmon to win the fight against Ice Devimon.
[/espoiler]
[espoiler= 'On Crests: Adventurer']
Before you can get a crest, you must first receive a tag. Tags will be given as a gift after the Juggernaut incident. Adventurers cannot get it before hand. There is a good reason for this.
Crests must also be found in a place which is somehow symbolic to either the DigiDestined or their partner.
Just because you get a crest doesn't mean you can use it right away. You need to 'activate' it. For example:
Crest of Friendship. Yamato, who hadn't really accepted Jyou or anybody's friendship up until then, realizes he does care about them and they are his friends.
Crest of Courage. Taichi doesn't back down from a fight when everything seems hopeless.
Note: Adventure can only have one crest.
[/espoiler]
[espoiler= 'DNA Digivolving and Digivolving in general']
Article on Digivolving
DNA Digivolving happens when two people just connect and it grants their partner the ability to wield with the other person's partner to form a new Digimon. Don't worry, just like everything else this is reversible.
Example:
Example on how powerful it can be:
Note: Omegamon is one of (if not) strongest Digimon in the Digital World. He was formed from two megas. Yours would be two champions Digivolving to reach Ultimate.
[/espoiler]
[espoiler= 'The Government']
The Japanese government, along with the help of the United Nations, has worked hard in erasing all memories of Digimon across the world. However, it has been the Japanese government which is mostly been tasked with keeping up the Fire Wall due to the fact they are more technology advanced compared to the rest of the world.
The part of the government which is tasked with this is DATS. DATS was formed after Hypnos blew itself up by the old members of Hypnos and the Tamers. At first, DATS were members of the Digidestined themselves. They went from Tamers to the Savers, and their main concern was to defend the world from Digimon and keep the knowledge of Digimon secret from the general public.
After the events of Quartzmon, with the help of the Generals/Hunters, DATS made the Fire Wall which would stop Digimon from entering the Human World again. This wall lasted for years, and now that it is finally cracking, its putting them on edge.
[/espoiler]
[espoiler= 'The Media']
At this moment in time, the Digidestined won't have to worry about their faces and their Digimon being plastered all over the media. Even though Wild Ones are appearing, we need to keep in mind
a) the emergency call
b) travel time
One of DATS responsibilities is to keep humans from finding out about Digimon. So, they will be first to a scene and they will be making cover stories when there is witnesses. So, although the government is doing this for their own reasons, this helps the Digidestined.
However, this isn't to say when things start to go to major shit we won't have to worry about them.
[/espoiler]
[espoiler= 'Japanese Culture 101']
Japanese say their last name first. So for example, my character's first name is Shiki and her last name is Taiga. However, she would introduce herself as "Taiga Shiki."
Only family and close friends address each other by the first name. It's seen as being too 'informal' otherwise. Depending on the character, they could and would take offense. Shiki would be one of those characters.
Another thing to note is the suffixes that the Japanese use to indicate formality.
Suffixes:
-san
This means Mister or Misses. This is by far the most commonly used one. If you don't know the person that well, you use this. So for example, Shiki would be referred to as "Taiga-san" at first.
-chan
This is a term of endearment used for girls and small children. Although it can be used for boys, but this is more rare. It can be used both with the first and last name. If you are friends it would be something like "Taiga-chan." If you are good friends it would be "Shiki-chan."
-kun
This is a term used for boys mostly exclusively, although can be used for girls who are a bit more boyish. Same rules apply as they do for -chan.
-sama
This is used of someone of high importance. Like a noble or a company owner or something. It can also be used for children who are very wealthy.
-sensei
Teacher
-senpai
A term used to address an older student.
Random words:
Arigatou
-Thank you
Itadakimasu
-Said before eating; means "Let's eat!" or "Thanks for the food!"
Konnichiwa-
Hello
Ja ne
Good bye
When you enter a Japanese person's home, shoes are taken off and slippers are offered to guests. In addition, guests are offered something to snack on (typically tea and cookies)
School

Kindergarden
Elementary: Ages 6-12
Junior High School: Ages 12-15
This is an important time period because students will be studying for exams to get into high school and then to a good college/university so they can get a good career. Children usually stay late after school dealing with clubs or cram school
High School: Ages 15-18
High school must be entered by an exam. A good high school means a student can get into a good university. A good university means good job. So, getting into a good high school can really affect a student's future plans.
Cram School
Basically a supplementary school that helps a student get into a good high school/college. They can run very late.
A school is set up that once you enter is like a shoe locker where the students switch their "outdoor shoes" with their "school shoes"
Classrooms are separated by year and class.
Ex:
1-1
1-2
1-3
2-1
2-2
2-3
3-1
3-2
3-3
The students stay in the same classroom and the teacher comes to them. They don't have different classmates for different classes. It's the same classmates in the same classroom. They also wear uniforms.
The age separations will go by age:
Year 1:
15-16
Year 2:
16-17
Year 3:
17-18
And we
will
be observing birthdays, so please keep that in mind.
This is their bag:
This will be the uniform for boys: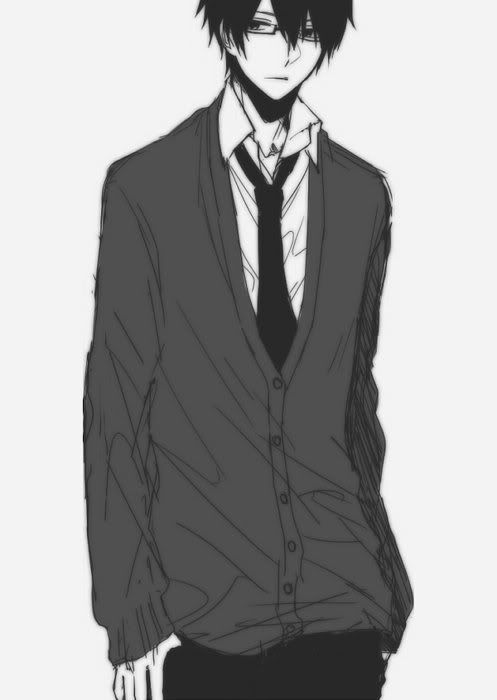 This will be the uniform for girls: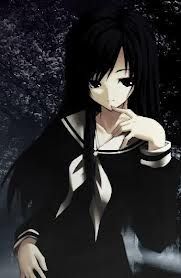 (Yes, it is a skirt uniform. Complete with black knee-high stockings.)
School Terms:
The Japanese school year starts on April 5. On this day, we have the entrance or beginning-of-year ceremony. This is the day that the beginning of the first semester begins.
We have a series of national holidays called "Golden Week" in Japan, which runs from April 29 to May 5, and school children get those days off also.
On July 21, summer vacation starts.
On August 28, summer vacation ends. This is the beginning of the second half of the first semester.
Autumn vacation is from October 6 to October 10.
October 11 is the beginning of the second semester.
Winter vacation is from December 22 to January 7.
The second half of the second semester begins on January 8.
March 19 is the graduation ceremony for those who are graduating.
March 24 is the end of the school year for all other students.
Lunch:
Lunches are eaten around the same time everyday, and all grades have lunch at the same time. (FOR PLOT PURPOSES.) Most students tend to eat lunch in thier classroom, but if they so desire they may leave and eat elsewhere. The rooftop is a common place for students to go, also somewhere on the grounds during good weather. Visiting other classrooms is also perfectly acceptable.
SO BASICALLY:
First Semester (part 1) April 5- July 21
First Semester (part 2) Aug. 29- Oct. 6
Second Semester (part 1) Oct. 11- Dec. 22
Second Semester (part 2) Jan. 8-March 24 (or March 19 if graduating)
Holidays
Christmas:
New Year:
To get a better general understanding of the Japanese school system I would suggest you watch:
Ghost Hunt
Kaicho wa Maid-Sama!
Kekkashi
Kimi no Todoke
[/espoiler]
Rinn "Arwyn" Nailo drawn by Liah
Rakshael:
if I know one thing about Ruki, it's that she'll prove you wrong just for the sake of saying she did it
Characters
|
The Time Lost
|
The Rumors We Believe
|
Ruki's Reviews
The post was edited 63 times, last by Shrub ().